PVCu Windows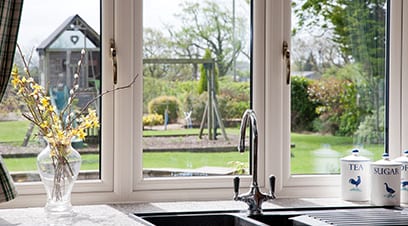 ---
21st Century Windows are manufactured from high quality Aluplast and Kommerling profiles, engineered to German standards. A-Rated windows comes as standard, and the lead-free profiles are highly recyclable and sustainable, whilst also being cost-effective. We offer a range of colour options in addition to a regular plain white finish.
---
Aluminium Windows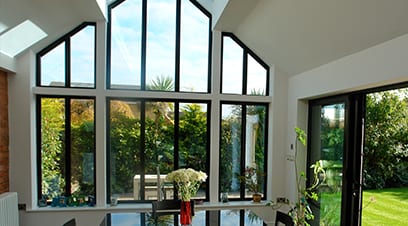 ---
No matter what size window you have, aluminium is the perfect choice next time you need to replace your frames. While many people look to aluminium windows for cost saving on bills over time, there are a range of other features that make them highly desirable. For instance, aluminium is durable and ideal for use in areas that experience rough weather conditions.
---
Sliding Patio Doors
---
Aluminium sliding doors are secure, strong and well-crafted, allowing you to make the most of your home's appearance. Sliding doors are ideal for wide spaces. Our sliding patios doors have an unmatched strength, and when you buy from 21st Century, you can rest assured they will be properly installed for performance, by approved local contractors.
---
Conservatories
---
When deciding to install or replace a conservatory, we are more than happy to guide you through the process. From design and specification, to arranging an approved contractor to carry out the work. We supply Ultraframe conservatory and orangery systems – a company at the forefront of technology & design, with experience and knowledge that is second to none.
---
Lantern Roofs
---
Not all lantern roof lights are the same, and we believe that Bespoke Roof Lanterns are among the best. They feature a full aluminium construction with the slimmest sightlines in the business – allowing as much natural light into your room as possible, and offering an unobstructed view of the sky above. Their motto is More Sky, Less Roof – click above to learn more.
---
GeoPanel Tiling Alternative
---
Geo Panel is a range of PVC interior decorative panelling which provides home owners and installers with a modern and convenient panelling system. Geo-panel is a cost-effective and practical alternative to tiling and other conventional materials. It provides a smooth, decorative, waterproof, maintenance free wall covering for new and existing interior walls.
PVCu Bi-Folding Doors
---
Choosing a Timberlook Slim-Sash bi-folding door allows you to benefit from some of the slimmest sight lines in the industry. Our unique concealed night vents ensure that the appearance of your installation is not spoilt by otherwise ugly features such as night ventilation. Click through to learn more about Timberlook PVCu bifold doors.
---
Aluminium Bi-Folding Doors
---
Bi-folding doors can bring the outdoors, indoors. While closed, our slim bi-fold doors allow through lots of natural light, but when opened, your outdoor and indoor living areas become connected. Aluminium ensures longevity, even in high traffic doorways, and their strength is makes them an ideal choice for areas that experience heavy winds & rain.
---
Composite Doors
---
We specify Solidor composite doors and are able to offer hundreds of design options to suit any home. Timber-core composite doors boast unrivalled levels of security, energy-efficiency and beauty. Choose from 17 colour options, inside and out, and an unsurpassed range of handles and accessories. It's no wonder that these doors are asked for by name!
---
Vertical Sliders
---
Whether replacing windows or building new, the fully sculptured Bespoke High Security Sash Window is an affordable choice. These vertical sliders offer the latest technology in a  traditional style. They are A-Rated as standard and come ready-supplied with toughened safety glass, travel and tilt restrictors and an anti-jemmy security bar at no additional cost.
---
Rainwater Products
---
21st Century stock a comprehensive range of PVCu roofline and rainwater products. We supply and can arrange installations that include fascias, soffit, cappit, drainage, guttering, trims and silicone sealing. Our trade counter and showroom in Poulton offers a wide range of products manufactured by some of the industry's leading names, including Swish & FreeFoam.
---
Trade Supplies
---
Our Window Centres stock a wide range of everyday trade supplies, including: silicones, mastic, flashing, saws, cleaning solutions, solvents, screws, and nails.